EXTRACT FROM REMINISCING WITH LEGENDS
On the evening of Sunday 20th May 2018, 20 years and four days on from the greatest day of Stefano Salvatori's football career, his bereaved wife stepped up to deliver the most courageous performance of her life at the Edinburgh International Conference Centre on Morrison Street.
"When I got up to do that speech, the sensation in the room was unreal," says Gillian Salvatori, recalling the moving moments when she brought tears to the eyes of her husband's former team-mates and more than 800 Hearts supporters who had gathered to celebrate the 20th anniversary of the 1998 Scottish Cup triumph, of which the Italian midfielder had played a significant part. "I couldn't finish a sentence without there being a chant of 'Salvatori'. I got interrupted at the end of every sentence with applause and people singing his name. A few of his team-mates had come up to me earlier in the night and said 'I heard you're doing a speech, do you want me to stand up there with you?' because they didn't want me doing it on my own. I said 'no, it's fine, I can do it'. I'd given speeches before and I'd spoken at Stef's funeral, which was incredibly difficult. I was actually holding it together pretty well because I was absolutely determined to get my message across and explain to everyone how much Hearts and Scotland had meant to Stef and thank everyone on his behalf for making him feel so welcome in Edinburgh over the years. About half-way through, Gary Locke came up and put his arm around me but that didn't help because he was sobbing more than I was. It was such a kind and unexpected gesture; it was very moving."
Given the tragic circumstances, Mrs Salvatori could easily have been forgiven had she politely declined the invite from Hearts to attend this landmark reunion and instead chosen to remain at home in Brisbane, Australia, with her two young children, Remo and Lucia, who had lost their beloved father less than seven months previously. Stefano Salvatori passed away, aged just 49, on 1st November 2017 at the end of a torturous - and largely private - three-year battle with cancer, which was metastatic by the time it was detected in August 2014. This was some 17 months after his last appearance in Scotland, when he was the Hearts legend chosen to parade the League Cup trophy on the Hampden pitch prior to the final against St Mirren in March 2013. For context, John Robertson - the club's record league goal-scorer - was the man who performed this role before Hearts' Scottish Cup final victory over Hibs ten months previously. Only players of substance tend to get the gig.
Gillian had learned through the course of the six-and-a-half special years she spent with Stefano that - in addition to being a loving partner and doting father - he was a proud Scottish Cup-winning former Hearts player who was fondly regarded in Edinburgh, the city in which they had met after the Italian started flirting with her in a George Street nightspot in May 2011. Stefano had been back living in Scotland for a short time at that point, working as an agent and exploring the possibility of landing himself a technical director role within Scottish football, while Gillian had completed her specialist training at Edinburgh's Sick Kids Hospital and was working as a paediatrician. When given the opportunity to return to the Scottish capital just a matter of months after her husband's death, Gillian was in no doubt that - as difficult as it would be, emotionally and logistically - she simply had to make the pilgrimage to represent and honour him. It proved a cathartic experience amid her ongoing grief.
"I'll never be able to describe what it was like that night," says Gillian, of an evening in which she had everyone present watching on in thrall and sheer admiration. "I knew I wanted to make a speech and I knew that I'd meet his team-mates. I'd only previously met Gary Locke and Jim Jefferies from when we were living in Scotland. I hadn't met any of the other guys or their wives because I wasn't on the scene when Stef played for Hearts. I was just blown away by how kind and caring all his team-mates and coaches were towards me. They were just such gentlemen, really genuine with their sentiments. Almost all of them made time to come up to me individually and chat to me and give me their anecdotes about Stef. There were so many stories I hadn't heard before, so I was really touched by that. It was really amazing to be able to have contact with the Hearts players because I feel I've got a duty to my kids to preserve those relationships so that when Remo and Lucia are old enough they can go and meet all of those guys themselves and hear all the stories directly. Nothing is ever going to make it okay that Stef isn't here and won't see the kids grow up, but moments like that night certainly help. I felt love and support from everyone in the room."
Just six months later, in November 2018, Gillian was back in Edinburgh once again as the entire 1998 Scottish Cup-winning squad was inducted to Hearts' Hall of Fame; proof - not that it was needed - that her beloved husband's place in the Tynecastle club's folklore will be secure forever. "Being back in Edinburgh is always somewhat comforting because that's where we met and we had a wonderful life there together before we moved out to Australia (in 2012)," she says. "I know Edinburgh was a special place for Stef. On the night we first met, he was quite coy about his occupation but he mentioned that he used to play for Hearts and at that stage, even though I'd been living in Edinburgh for over a year, I didn't know who or what Hearts were. I'm embarrassed to say that because I very much know who Hearts are now, and I certainly understand what they mean to him after I went to Edinburgh for those two events."
Although he was the player in the cup final squad who made the fewest appearances - 73 in a spell at Hearts that lasted almost three years - Salvatori's contribution cannot be downplayed. After adapting to Scottish football in his first season at the club following his arrival in September 1996, the long-haired Italian was an unheralded but hugely effective performer throughout Hearts' 1997/98 campaign; he was particularly impressive in the cup final, on a day when Jefferies needed his destructive players to come to the fore. "There are loads of players who like the limelight and are not so happy to do the dirty work - just sitting in, tackling and giving the ball to a better football player than them - but Salvatori never minded that," says assistant manager Billy Brown. "He was happy to be a sitter and let Colin Cameron and Steve Fulton go and express themselves. He fitted into our team really well; he was a team player. I couldn't think any more highly of him, I have to say. The likes of Cameron, Stephane Adam and Neil McCann got all the praise but Salvatori was as good and as big an influence in that team as any of them. In the final, he was as good as any player on the pitch, as good as any player."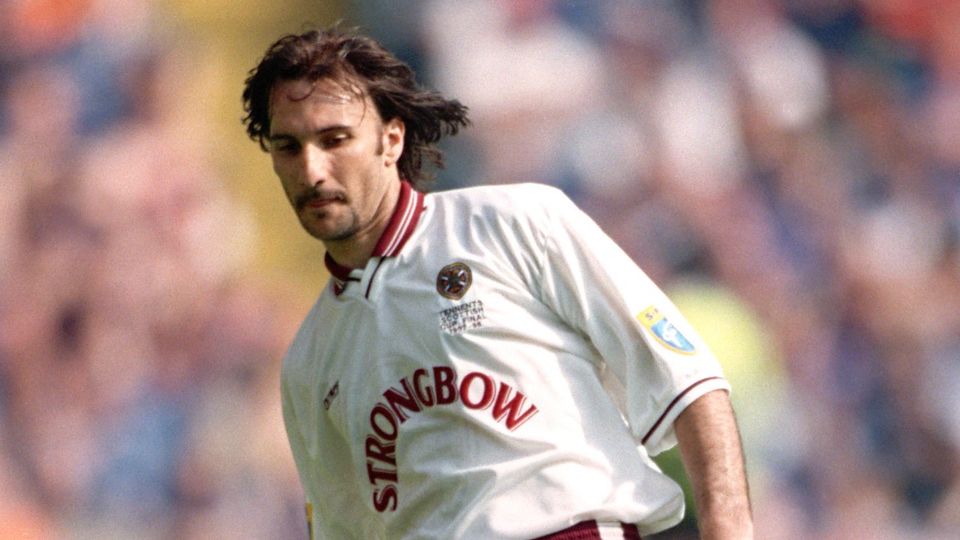 Salvatori was 30 at the time of the cup final triumph and much of his afternoon's work involved attempting to subdue his fellow Italian Rino Gattuso, a Rangers midfielder ten years his junior. The Hearts player performed this task impressively, getting the better of a young man who would go on to spend a decade at the base of AC Milan's midfield; this was something Salvatori had genuine aspirations of accomplishing himself when he embarked on his own professional career in the mid-to-late 1980s following a humbling childhood in Rome. Salvatori was born at the end of 1967 and raised by his working-class parents, Remo and Lucia, as the eldest of three children in Albuccione, a deprived suburb to the north-east of Italy's capital city. "I got to know Stefano's family and they are very much like my family," says Marco Simone, a close friend and former AC Milan team-mate of Salvatori's. "We didn't come from rich families and our parents worked hard so this made him very down to earth." Salvatori last visited his childhood home in Albuccione with his wife in 2013. "People in the area who knew him were proud of what he went on to achieve as a footballer," says Gillian. "When we went back to visit his mum, people were hanging out the window waving at him even though they hadn't seen him for years. Stef was proud of where he came from but also sad about it because the area had deteriorated a lot since he was a kid growing up there and he knew life didn't have to be like that."
Salvatori started playing football on the streets of Albuccione and it soon became clear he had a talent. He impressed with San Basilio Lazio, a club in his local area, in his early teens and got the chance, in 1983, to join the academy of AS Lodigiani, who were a lower-league club in eastern Rome renowned for nurturing and promoting young players. Andrea Silenzi, Francesco Totti and Luigi Apolloni were among the most famous names to emerge from Lodigiani, and Salvatori benefitted from its reputation as a fertile breeding ground for quality footballers when he was spotted by a visiting scout from AC Milan in 1985 and given the chance to sign for the Italian giants. Aged 17, Salvatori left his family behind and headed north, moving into the club's on-site guest house at their prestigious Milanello training base, 30 miles north-west of Milan. He spent two years in Milan's academy, the second of which was spent under the guidance of Fabio Capello, a youth-team coach at the time. In the 1987/88 season, he went on loan to Bergamo-based Serie C side Virescit Boccaleone, where he first met an 18-year-old Simone, who was on loan from Serie A side Como. "Stefano and I had two different journeys through our junior careers, but we both went on loan to Virescit Boccaleone and that's where we met," says Simone. "We didn't know each other before, but we quickly forged a friendship where we were more like brothers so we decided to live together in the same apartment. We grew together, we started our professional careers together. What I can say about Stefano is only positive. His generosity was incredible. I met many people in the soccer world and Stefano is the person and player who demonstrated the most kindness as a man."
Salvatori and Simone returned to their respective parent clubs in the summer of 1988, but their separation would be only temporary. Salvatori spent a short period of the 1988/89 campaign on loan at Serie B side Parma before moving to Fiorentina, where manager Sven-Goran Eriksson gave him his Serie A debut, aged 20, as an 82nd-minute substitute in a 3-2 home win over Pescara in December 1988. Team-mates that day included fellow Milan loanee Stefano Borgonovo, 25-year-old Brazil internationalist Dunga and a 21-year-old Roberto Baggio. Salvatori was sent off for two bookable offences in his first Fiorentina start - a 2-1 defeat at Hellas Verona on the last day of 1988 - but the Italian soon became a regular in Eriksson's midfield, starting 22 games in total as La Viola finished seventh in Serie A and qualified for the UEFA Cup. His impressive campaign in Florence meant he got the chance to stake a claim for a place in Arrigo Sacchi's Milan side when he returned to his parent club for the start of the 1989/90 season. At this point, he was reunited with attacker Simone, who joined Milan in summer 1989 following Como's relegation from Serie A.
Aged 21, Salvatori made his Milan debut as an extra-time substitute in a Coppa Italia match away to Parma in August 1989; his first Serie A appearance for Rossoneri came two weeks later when he went on as an 82nd-minute replacement for, ironically, Simone in a 1-0 win away to Atalanta. Team-mates that Wednesday evening in Bergamo included Paolo Maldini, Franco Baresi and Carlo Ancelotti, who scored the game's only goal. Other players at Milan that season included Demetrio Albertini, Alessandro Costacurta, Roberto Donadoni and the Dutch trio of Marco Van Basten, Frank Rijkaard and Ruud Gullit. Young Salvatori held his own in esteemed company. "I was at Milan for a lot longer than Stefano, but he spent a good amount of time there," says Simone, who made 259 appearances across his two spells with the Rossoneri. "To be in that historic group of Milan players demonstrated that he had great qualities. When you were chosen to play for the first team in Milan at that time, it meant you were a great player because it wasn't a given that you would be chosen for the first team just because you started your career with them. Competing alongside players like Ancelotti and Rijkaard, he was among world leaders in that midfielder position."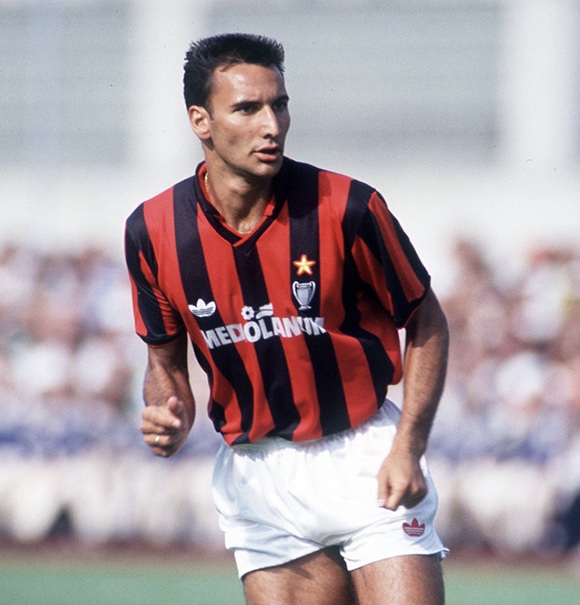 In what would prove to be Salvatori's only full season in Milan's first team, the Rossoneri finished runners-up to Diego Maradona-inspired Napoli in Serie A, won the European Cup, and also claimed the European Super Cup. In addition to featuring regularly for Italy Under-21s - he won 13 caps at that level in total - Salvatori made 19 competitive appearances, including 12 starts, for Milan in the 1989/90 campaign. He played the full 90 minutes in the first leg of the Super Cup away to Barcelona and appeared in one match on the European Cup run: as a substitute in the first leg of the quarter-final away to Belgian club Mechelen. "On the field, he was the exact copy of what he was in his life: he was generous athletically," says Simone. "At AC Milan and even after he left, we used to refer to him as 'Guerrero Indio' (the Indian Warrior) because, with his Mohican hairstyle and aquiline nose, he looked like an Apache Indian and he was a warrior on the field. He was like a previous version of Gattuso because he played with that same grit and determination and that need to snatch the ball off the opponent. He had a very intelligent strategy in his game and his technique was great. He was a great player who even in today's world of quick and technically strong soccer, would have played with ease. Outside of the field, he was a joker. We were practically together 24/7 when we were team-mates and he always joked around. He loved to go shopping, he was very much into his fashion and paid a lot of attention not only to his hair but to following the latest fashion trends. He was also very attentive to his skin regime, using various creams like women do. He was very particular about his look."
Unlike Simone, who was an unused substitute, Salvatori didn't make the squad for the 1990 European Cup final in Vienna but the midfielder, with short hair at the time and sporting a sharp black club suit, enjoyed the celebrations on the pitch and in the dressing-room after Rijkaard's goal secured a 1-0 win over Benfica. Indeed, there is a now-poignant photo of Salvatori and Borgonovo sitting together on the plane home from Austria proudly posing with the European Cup. Tragically, both men - who played together for Milan and Fiorentina - lost their lives at the age of 49, with Borgonovo succumbing to amyotrophic lateral sclerosis, a form of motor neurone disease, in June 2013. Salvatori played in his stricken friend's charity match between Fiorentina and Milan at Stadio Artemio Franchi in October 2008 and was photographed tenderly kissing Borgonovo on the head as Baggio pushed him past all his former team-mates in a wheelchair. "The love and kindness on Stef's face at that moment was so beautiful," says Gillian. "Stef was very close to him and visited him when he was really sick; I know that affected Stef a lot."
Salvatori appeared in four Coppa Italia games at the start of the 1990/91 campaign before his Milan career came to an end and he followed Borgonovo back to Fiorentina on a permanent transfer in December 1990. "Milan were possibly the best team in the world when Stefano was there," says Pasquale Bruno, who played against the Rossoneri for Juventus at the time and would later become a team-mate and friend of Salvatori's at Hearts. "He was in a midfield with big players like Gullit, Rijkaard and Albertini so it was tough for him but he still managed to get some games."
Regular match action was easier to come by in Florence where Salvatori made 50 appearances - 48 as a starter - in an 18-month stint with La Viola, who added Argentine striker Gabriel Batistuta to their ranks in this period. He dropped out of the top flight in the summer of 1992, aged 24, to sign for Ferrara-based Serie B side SPAL, where he suffered relegation at the end of his first season. After spending the 1993/94 campaign in Italy's third tier - where SPAL made the play-offs but failed to win promotion - Salvatori was back in Serie B the following campaign when Atalanta signed him in 1994. In his first season, he helped the Bergamo club up into Serie A as they finished fourth in the second tier. His first campaign back in the top-flight following a three-year absence proved to be his last, however. Salvatori made 27 appearances in all competitions - 11 as a starter - as his team finished two places above the relegation zone. His spell with Atalanta ended after he appeared as a second-half substitute in both legs of a 3-0 aggregate defeat by former club Fiorentina in the Coppa Italia final in May 1996. Two years down the line, Salvatori and one of La Viola's cup final goal heroes, Lorenzo Amoruso, would find themselves locking horns in another national cup final. In Scotland.
After leaving Atalanta, aged 28 and with his run at the top level of Italian football having lost momentum, Salvatori - who by this point had welcomed two daughters, Fabiola and Linda, into the world with his first wife, Monica - was open to a fresh challenge as he sought career reinvigoration. He would find it in Edinburgh. Bruno, whom Salvatori didn't previously know on a personal level, already had his feet under the Bar Roma table after joining Hearts the previous November. Salvatori's agent, Moreno Roggi, was aware that Bruno - the first of a mini-wave of Italians to arrive in Scottish football in the mid-to-late 1990s - was enjoying a new lease of life in Edinburgh and contacted the former Juventus and Torino defender to ask if he would recommend the free-agent midfield enforcer to Jefferies. "I spoke to Jim and said 'listen boss, there is a good midfielder available who played for AC Milan, Fiorentina and Atalanta and he is a tough lad'," recalls Bruno. Salvatori was invited to Edinburgh for a trial at the end of August 1996, and the Hearts manager immediately liked what he saw and offered him a short-term contract. "I was very impressed with Stefano from day one and knew he could do a good job for us," says Jefferies. "He was a powerful player."
Barely able to speak a word of English at this point, Salvatori had something of a baptism of fire in his first few weeks at Hearts...
If you enjoyed this extract and would like to read more about Hearts' exhilarating journey to Scottish Cup glory in 1998, treat yourself to Reminiscing with Legends. You can purchase now via the Products option at the top of this page.